I wrote a version of this internal blog post in 2012 for staff at the Michigan Suburbs Alliance. At the time, I was leading Climate Action Planning, a project that developed local strategies for community-level action on climate change for the cities of Hazel Park, Ypsilanti and Southgate in SE Michigan.  In this original blog post, I drew parallels between the environmental desires and challenges faced by small urban communities in metro Detroit with those experienced by small communities in the Amazonas. I edited this version for my own blog.
Immersion Travel Experiences: Life on the Amazon
In November 2011, Jim and I took a two week trip exploring four parts of Brazil: historical world heritage site and city, Salvador; beach Brazil, Imbassai; the Amazon River, Manuas and Tefé; and urban city, Rio de Janeiro. Whenever I travel internationally, I seek local immersion experiences, to go beyond the surface of typical tourist activities to really learn how the local people live. For me, travel like this fills my soul and I believe, makes me a more compassionate human being.
Our travel specialist truly delivered on my request for an immersion experience. For three nights out of our two weeks, we stayed at the solar powered Pousada Uakari, a floating eco-tourism lodge managed by the Mamirauá Institute, a biodiversity ecological research facility (click for google earth link).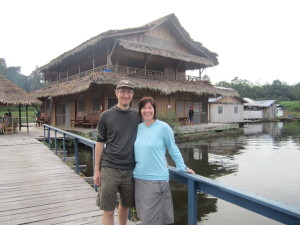 Tourism dollars raised from the Pousada Uakari pay for local community projects and inspections to ensure the Institute and local communities implement the area's sustainability management plan, which started in 1996.  Eight communities from the reserve manage the Lodge, the employees, the contractors and the salespeople.
Sustainability in Caburini, Amazonas
Enhancing environmental sustainability in a remote rural community nestled deep in the Amazonas, I learned, is as difficult as trying to encourage inner-ring suburban folks to care about climate action planning. The three cities participating in our small city-climate action planning project share similar leadership and local engagement challenges as Caburini, a small community settled on the banks of the Amazon River located in the Mamirauá Reserve. And small means 140 people, total population. Although Caburini is located in one of the planet's largest ecologically bio-diverse areas and the Amazon river is a top tourist destination for the adventurous, most local communities subsist on meager incomes and struggle to learn how to use resources more economically. In this part of the world, traditional ways of living are transitioning to new cultural norms that support ecological conservationism.
Getting to Caburini:
During the Dry Season, the Amazon River drops approximately 40 feet, exposing land for walking and growing food; the locals bush whack a path from the river beach to their homes. During the Wet Season, we would have canoed right up to the homes. Homes are built to either float on the river or built on stilts to sit above rising water.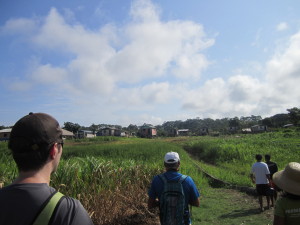 The Community of Caburini
This community plans for flooding during the rainy season, with each house built on stilts to accommodate the rise and fall of river water. The residents play futball on the field between the homes.
Powering Home Life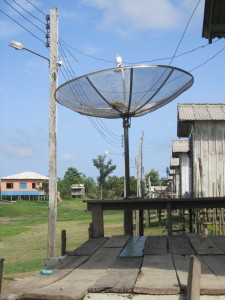 Each Caburini household contributes to a monthly financial pool to pay for electricity production: a gas-generator powered for approximately 4-5 hours every day. Residents pay for gas, maintenance and the electrical infrastructure, including the wooden poles, electrical wires and connections to the homes.  Satellites enable sports fans to watch important football games, power lights and cooking equipment and other everyday electronics.  Through the programming at Pousada Uakari, the community seeks funding to eliminate gas and oil power in order to switch to solar powered energy.
(The City of Southgate, Michigan has made a bold promise to reduce its energy use 25% by 2015. In addition to efficient lighting, the
City installed solar panels
on its municipal buildings to lower its energy cost. In Ypsilanti, the City seeks to increase its solar energy generation for its municipal buildings and throughout the community.  Fortunately,
Solar Yps
i, a non-profit dedicated to increasing solar energy production is a strong partner for the City to work with on alternative energy production.)
Trees Equal Wealth
Trees are a big deal no matter where you live on the planet.
In the Amazonas, deforestation has negatively impacted the quality of life for small communities and hampered economic growth.  Besides housing an intensive list of mammals, plants and insects, many Amazon trees are water resistant–perfect for building water-resistant homes, especially floating homes.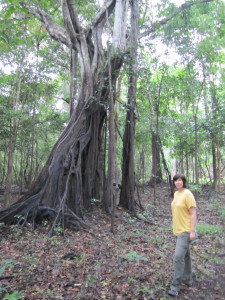 Unfortunately, the tree cultivation in the 70's and 80's felled over 70% of this areas mature trees.  In response, the government implemented a sustainable development management plan to oversee and inspect tree cultivation in the ecological reserve. Local communities receive 50 reis per person, per month NOT to cut down trees or burn off plants.  Government representatives come to inspect communities to ensure they abide by the rules.
(Ypsilanti and Hazel Park desire urban re- forestry programs to replace diseased and dead mature trees to improve neighborhoods, provide shade that helps lower home energy costs and improves overall human well-being. While many Ypsilanti neighborhoods have substantial canopy cover, the city's February 2012 Urban Forestry Management Plan identified 3,000 additional planting sites within street rights-of-way and parks, not including opportunities on private properties.(
Climate Action Plan Report, July 2012 
)
Economic Alternatives: Family Agriculture 
In support of the sustainability management plan, the Institute teaches communities economic alternatives for sustenance and income.  In addition to the abundance of fish, local communities grow most of their food during the dry season behind their homes.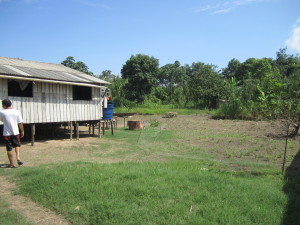 Nestled between the trees are numerous crops: maize, watermelon, pineapple, mango, manioc, different types of beans, squash, spices & herbs, onions, leeks, and lettuce.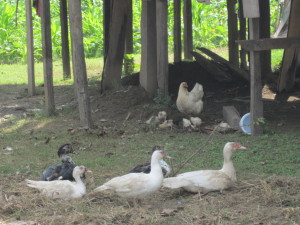 Many chickens and roosters live underneath each home. The Institute has introduced more live stock management and native bee-keeping as alternatives.
Manioc, a staple root vegetable, that is transformed into many edible forms, primarily meal and flour. Brazilians liberally apply manioc to every meal. In small river communities, manioc cultivation is a time consuming and expensive process.   Each family uses a wood oven to grind manioc into flour.  The Institute  helped redesign the wood ovens to burn less wood, and now seek alternatives to wood, including solar power and kinetic powered grinding methods such as bicycle powered energy.
Cultural Change
Families used to bury trash in the ground. Now the Institute teaches residents how to separate trash for recycling, and then sell these items at the market. Composting is also very popular.  Another major change underway is an educational shift from people using the Amazon River as a big toilet: instead of defecating in the water, perma-culture composting toilets are being built. The Institute provides training and encouragement for community leaders, who then have the responsibility to ensure their residents change their habits, support programs and encourage local change to achieve sustainability.
(In the Climate Action Plan reports, an entire section discusses the need for local cultural change to successfully implement community supported strategies. Individual behavior is one of the most important ways we impact greenhouse gas emissions, but it is also one of the most difficult to measure or change, whether it be in the Amazonas area or in urban inner-ring suburbs around metro Detroit.)
Leadership Pushes Sustainability Forward
Caburini has a community "president", responsible for leading the community but also responsible for leading behavior change to support sustainability practices, following the programming guided by the Institute and Pousada Uakari.
The environmental challenges facing our urbanized area in Metro Detroit and their rural river life in the Amazonas are similar and the means to address these challenges follow the same path:
1) Create a plan
2) Education is necessary
3) Community leaders are a key and innovation is required to encourage change.
4) Partners are essential
Learning & Relaxing: A Perfect Vacation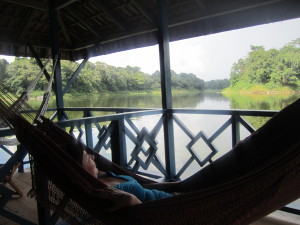 It is difficult to find immersion travel experiences for short-trips, however Pousada Uakari delivers an extraordinary experience to discover how others live in a small corner of the world. It's also a great place to relax, listen and view to the wildlife around you, especially the
Howler Monkeys
 and caiman's (crocodiles) swimming outside your cabin (not my video, but it is an accurate sound what you'll hear at Pousada Uakari!)